Aeration
Makes it easier to have a great lawn
Benefits of Aeration
Reduces watering requirements
Reduces the thatch with regular aeration. The thatch is a natural breeding ground for insects and disease. The oxygen getting through the thatch layer will naturally reduce the thatch, therefore, reducing insects and disease.
Reduces soil compaction. The compaction is relieved and the roots have room to spread out. Moisture and oxygen penetrate deeper, encouraging deeper root growth.
Better fertilizer efficiency. With aeration the fertilizer is more effective.
We can help by aerating your lawn once in the spring and again in the fall.
The most important time for root growth is in the fall when there is little competition from weeds and heat stress.
Whenever we aerate your lawn, we also spread seed on the weak areas. This will thicken grass under trees and will improve your lawn.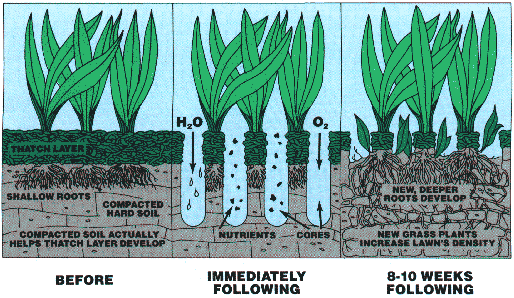 For a FREE estimate on our Services